Architectural Design
My studies at the renowned Bauhaus University and the TU Berlin, have taught me to carry an idea through all Design stages until building completion. In the 3+ years of work experience (Berlin & Barcelona), I have been mainly focusing on sustainable and socially inclusive Design practices. My main competences lie in:
•Building Information Modelling (BIM)
Below you will find a collection of my favourite projects.
Like what you see? Let's get in touch!

Berlin's biggest housing estate in timber construction. Near Passivhaus standard and multiple awards.

The array of public and semi-public areas provide a social centre for a new, diversified community: 128 apartments (xs to xl sizes) for members of a Community Land Trust and private property. Facilities include an accessible swimming pool, a community kitchen and a kinder garden.
Built

Project Architect
LP 2-5 (RIBA 2-4)

Deimel Oelschläger Architekten
UTB Development &
Begeno Community Land Trust

Berlin Weißensee, Germany
12.400 sqm (net floor area)

Residential development for a socially diverse community. Micro-living to XL co-living clusters based on a modular and highly efficient construction gird. High energy efficiency and hybrid timber-concrete structure.
Public tender - 2nd prize
Design Lead
Deimel Oelschläger Architekten
Berlin, Germany
4.500 sqm (net floor area)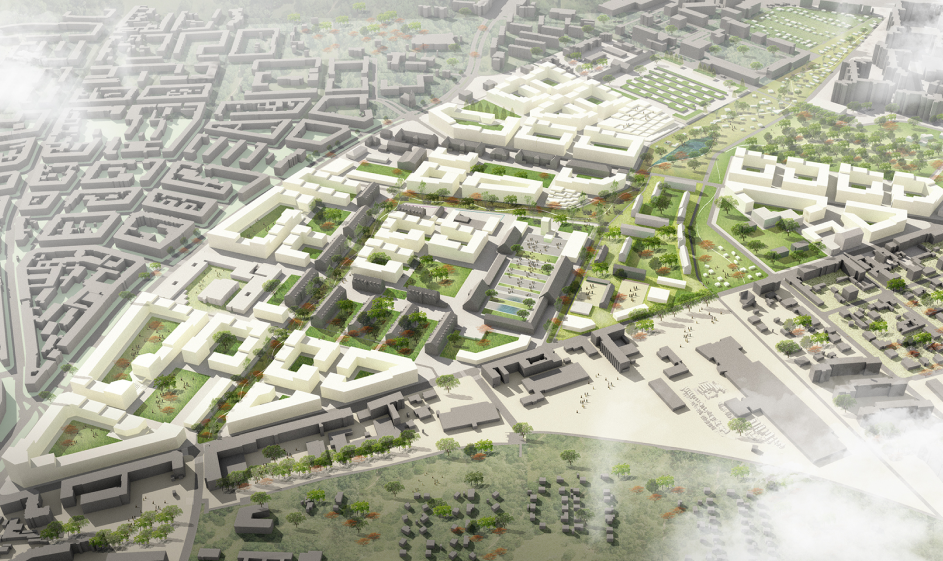 Urban Resilience

Sustainable urban master plan to revive a former military campus in Spandau Berlin. View the full case study
here
.
status
Master Thesis - Research & Design

Kenan Melhem
Prof. Stollmann, Prof. Geipel, Prof. Hahn
Berlin Spandau, Germany

72ha

Sustainable Design proposal for a private residence in Derbyshire, UK.
The existing traditional stone building received a read extension with an optimised timber envelope while maintaining the country side aesthetic.

Completed
Architect Consultant

Derbyshire, UK
240 sqm (net floor area)

Ready to discuss your next project?